Barrie, Ontario, March 20, 2013 — The newly improved website for Busch Systems International goes live today on the world wide web. The site aims to extend the reach of the world's leading recycling container manufacturer through a number of improvements, most notably an integrated e-commerce element.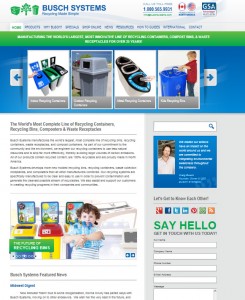 Busch Systems has been a world leader in the design and manufacturing of recycling, compost and waste containers since the company's inception in 1985. In addition to supplying recycling bins in a business-to-business format, the company is now simplifying the ability for online shoppers to purchase recycling containers.
"Our website has always been a big part of our business", states Serena Brooks, Sales Manager of Busch Systems International. "Now, our new website makes it even easier for people to access our products."
The new website was created in response to the growing number of inquiries for an online purchasing option. In the past, purchasing of Busch Systems' recycling bins was handled through a B2B sales department. Customers could purchase online but were taken off the Busch website to a separate domain for e-commerce transactions.
The new website integrates e-commerce seamlessly with the many other features of the website. In addition to providing information on their recycling, waste and compost bin products, the website also offers recycling news articles, recycling 'how to' guides, downloadable signage, location-specific container suggestions as well as recycling resources for kids and teachers.
"We are more than a recycling bin manufacturer", states Brooks. "We also provide solutions and resources to assist people with their recycling programs. Our new website reflects this."
To see the information and recycling, compost and waste options available, simply click here: http://www.buschsystems.com.
For additional information or a sample copy, contact:
---
Busch Systems International, Recycling Made Simple.
An industry leader for over twenty five years, Busch Systems has expanded internationally, with a product portfolio detailing upward of two hundred products. Busch Systems develops more new moulded recycling, waste and compost containers than all other manufacturers combined.
# # #