It's a little bit greener here at Busch Systems as we celebrate the completion of our very own Living Wall. This beautiful new vertical garden is here just in time to welcome Spring – inside the office!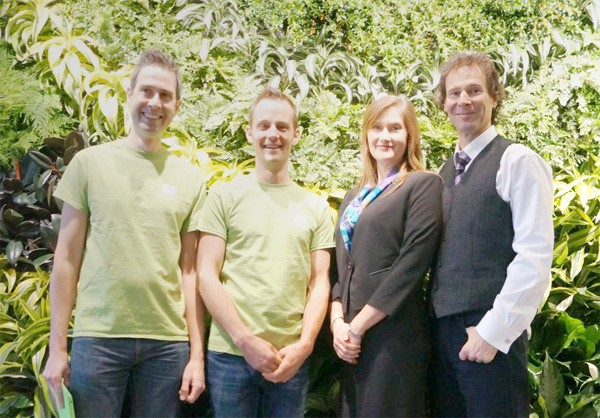 Always on the lookout for beautiful, functional and cutting-edge environmental design, Craig Busch, President & CEO of Busch Systems, developed a partnership with Green over Grey™ Living Walls And Design company.
After an in-depth design process and a whirlwind weekend installation (over 1,000 plants were used!), it was with great anticipation that the amazing results were finally revealed.
But what are "Living Walls"?
They're self-sufficient gardens that can be displayed on the interior or exterior of a building. Each garden is structurally supported to provide water and nutrients that the plants need to thrive year-round.
Many studies have concluded that exposure to plants in the workplace can reduce stress, improve productivity, eliminate harmful toxins from the air and provide many other health benefits. They can even improve your mood!
We believe, as many of our customers do, that being green starts in the workplace and that health at the office transfers to health at home—from your work family to your family!
If adding a green space like a Living Wall isn't possible, there are many other ways to integrate plants into your workspace! If you've implemented some amazing green space ideas we'd love to hear from you and see how you've brought the outside, inside, for a bit of workday inspiration.
Now that we've planted the idea….how will you make your office garden grow?