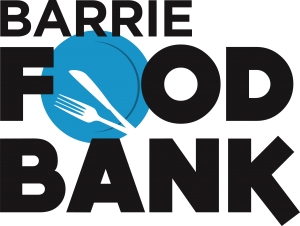 Barrie, Ontario, March 11, 2013 — In addition to making the community a better place, the Barrie Food Bank is also committed to making the world a better place as well. By ensuring all materials passing through the facility are recycled, the Food Bank is doing its part to reduce the amount of waste which ends up in our landfill.
"We haven't had a dumpster in eighteen years", states Peter Sundborg, Executive Director of the Barrie Food Bank. "We recycle or re-use everything we can around here. For us, it's just habit".
Funded entirely through private and corporate donations, the organization provides food to families and individuals in the community to prevent them from going hungry. There are two programs: a food assistance program which provides a supply of food meant to last for a period of time; and a morning 'drop-in' program designed to allow clients to pick up breads and baked goods to supplement their food assistance order.
The Food Bank distributes 55,000 pounds of food per month to just over 29,000 people last year alone. With the sheer volume of food products coming through the facility, a large amount of packaging and waste is generated.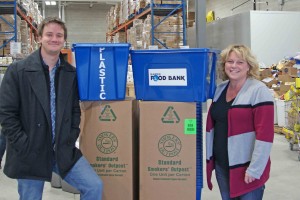 The facility recycles all cardboard, glass and plastics. Recycling bin manufacturer, Busch Systems has donated customized recycling bins to assist the Food Bank's recycling initiative. This helps ensure all items are properly sorted and everything gets recycled.
In addition to recycling, several items are also re-used, including plastic grocery bags, which are re-used to fill food orders for clients. Clients are also encouraged to bring their own re-usable bags for pickups. There is even a program in place to re-use all of the past-date bread and expired perishable items, as local farmers pick up stale-dated items three times weekly which is in turn used to feed their livestock.
"It's good for them and good for us", states Sundborg in regard to the local farmers' utilization of past-date food items. "The support we have had in our recycling efforts has been great and we couldn't do it without the help we have received".
For more information on the Barrie Food Bank, please visit: http://www.barriefoodbank.org/
For more information on Busch Systems, please visit: http://www.buschsystems.com
---
Busch Systems International, Recycling Made Simple.
An industry leader for over twenty five years, Busch Systems has expanded internationally, with a product portfolio detailing upward of two hundred products. Busch Systems develops more new molded recycling, waste and compost containers than all other manufacturers combined.
# # #