Barrie, Ontario, December 19, 2012 — Busch Systems International, a leading manufacturer of recycling, waste and compost containers has announced the conclusion of the "Mascot Match-Up" contest. Trine University has won the grand prize of $5000 in Busch recycling bins for their campus recycling program.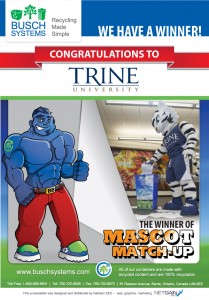 The "Mascot Match-Up" contest ran for the month of November and encouraged people from across North America to post their recycling mascot through the Busch Systems Facebook page. The entrants were then encouraged to garner as many votes as possible supporting their mascot. The three highest vote-getting mascots were entered into a draw for the grand prize. The top three recycling mascots were submitted by the University of Illinois at Chicago, Trine University and the PSC Sustainability Center with Trine University's mascot, "Storm" taking home $5000 in recycling bins for their school recycling program.
Busch Systems ran the contest in an effort to increase awareness of recycling programs in municipalities, businesses as well as colleges and universities. There were a total of 38 recycling mascots entered from across North America.
"It's great to see a school like Trine University win the recycling bins for their program", states Serena Brooks, Sales Manager at Busch Systems.  "Hopefully, this contest will help increase awareness and recycling rates right across North America".
Founded in 1884, Trine University is located in Angola, Indiana and boasts a main campus comprised of 450 acres. The university also reaches into neighboring communities as well. Consistently ranked as one of the Midwest's best colleges, the student body of almost 2500 is enrolled in a variety of studies and the school prides itself on a placement rate of over 90%.
"We are working towards a school-wide self-sustaining recycling program" states Dakota Bagwell, a student at Trine University who spearheaded the school's mascot campaign. "These bins will go wholly towards the recycling program here at Trine University's campus, bring it up to date as possible".
To visit the Busch Systems Facebook page, please see: http://www.facebook.com/BvuschSystems
---
Busch Systems International, Recycling Made Simple.
An industry leader for over twenty five years, Busch Systems has expanded internationally, with a product portfolio detailing upward of two hundred products. Busch Systems develops more new molded recycling, waste and compost containers than all other manufacturers combined.
# # #