Beer caps and recycling are two separate items that don't typically mix well together. Due to the small size of the caps, more often than not they get lost during the recycling process! In fact, recycling beer caps can ultimately prevent the proper recycling process from taking place. So, although your heart might be in the right place when recycling your beer caps, the actual result may be doing the exact opposite. Next time you open up a cold one, why not dabble in some other options through upcycling, re-purposing and getting creative with your beer caps.
A popular new trend in recycling is "Eco-crafts". Only spend a couple of minutes on Pinterest and you'll quickly learn that people are finding new and creative ways to work with beer caps. Individuals are upcycling them into innovative, practical, and fun creations from jewelry to furniture.
Magnets! 

Transforming your beer caps into fridge magnets are a simple, and fun option anyone can easily replicate. All you need is your cap, glue, and a magnet. It's never been easier to do your part to help the planet and create something practical at the same time.
Jewelry!

Beer caps can also be a beautiful and fun fashion accessory. Try out a pair of beer cap earrings, a necklace or rings! Very simple to create and they make an excellent statement. Bottle cap jewelry also makes a unique DIY gift for that female beer lover in your life! Keep them on your body instead of out in the environment!
Furniture!

For the ambitious craftsmen out there, if you save up enough beer caps you can create some unique furniture. People are even creating chairs entirely made out of caps! These pieces of furniture can make a great rainy day project and can help diminish their effect on the environment and recycling process.
Pieces of Art!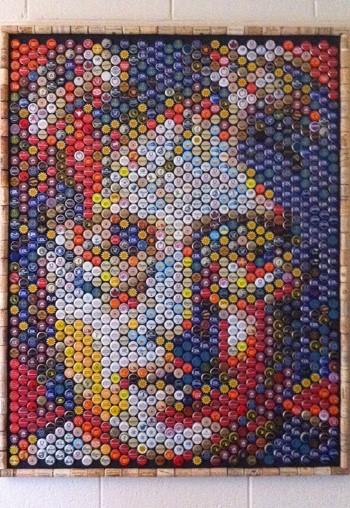 That's right ladies and gentlemen, the latest and greatest trend in upcycling bottle caps is turning them into beautiful masterpieces! One bartender inspired by working with beer bottles all day decided to collect them and turn them into art. His first masterpiece was a mosaic of John Lennon. It took six years to create but now makes an excellent piece of art hanging up on his apartment wall. Many have gone as far as mastering up entire mosaics out of bottle caps! It's incredible what you can achieve with a little creativity and a lot of bottle caps!
So, don't keep those great ideas bottled up, SEE WHAT YOU CAN DO IN ALL CAPS!
For other eco-inspiration check out the Busch Systems International Pinterest account https://www.pinterest.com/buschsystems

Sources
http://blog.hgtv.com/design/2012/05/14/designer-macgyver-unbelievable-bottle-cap-crafts/
http://www.examiner.com/article/don-t-throw-metal-bottle-caps-away-they-are-worth-cash-on-ebay
http://blog.sndimg.com/hgtv/design/Briana/bottle-cap-craft-magnets.jpg
http://assets.inhabitat.com/wp-content/blogs.dir/1/files/2012/12/BRC-Designs-Recycled-Bottle-Tops-Capped-Out-Chair-2-537×358.jpg
https://cdn-img-0.wanelo.com/p/88f/b68/8e7/a73d24835367e817b008989/x354-q80.jpg