It is amazing to find new ways to reuse and upcycle items like plastic bottles, and keep them from ending up in landfills. While many people know that plastic bottles can be reused in different ways such as making lamps, or gift containers (see some more examples here), there is one project taking place in Panama that truly pushes upcycling plastic to the limit!

Mr. Robert Bezeau – a Canadian who has lived in Panama for quite a while now – is constructing a village made out of plastic bottles. The community is being built in Isla Colon, on of Bocas del Toro's islands in Panama.

Owning a plastic bottle house is a significant step in the right direction of sustainability. Not only do they reduce waste and the need for non-renewable resources, they are also cost effective, provide excellent insulation when filled with sand, are incredibly sturdy, and look cool!
This project is very innovative and provides a lesson regarding the usage of plastic bottles. It turns out that plastic bottles can not only be reused to make crafts, but they also turned out to be an efficient insulator material to keep buildings at a nice temperature, potentially replacing the need to purchase air conditioners, thereby reducing energy use. This is a huge plus in equator-hugging countries like Panama!

But wait! More plastic bottle construction projects can be found around the globe. An Environmental Consultant by the name of Andreas Froese, creator of the ECOTEC system, has recovered more than 300,000 PET bottles that have been used in more than 50 construction projects in several countries including Nigeria, Colombia, Mexico, and Honduras. He also offers practical workshops to educate locals how to build reservoir tanks, septic tanks, and walls using recycled PET bottles.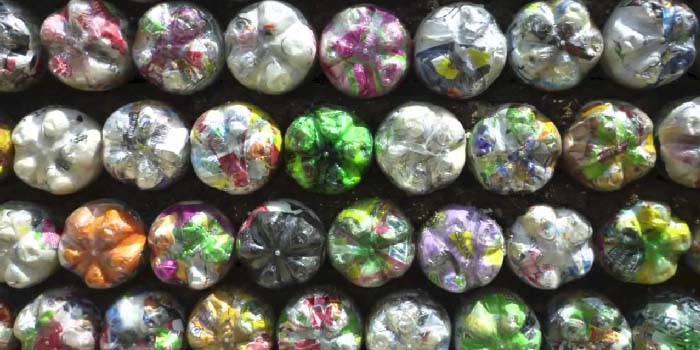 It's fantastic to see individuals like Mr. Bezeau and Mr. Froesse take a stand against environmental waste while helping poverty-stricken areas around the world.

Sources
http://www.dogonews.com/2016/5/28/panamas-plastic-bottle-village-will-be-constructed-from-recycled-pet-bottles
http://www.eco-tecnologia.com/
https://greennigeria.wordpress.com/tag/nigerias-plastic-bottle-house/