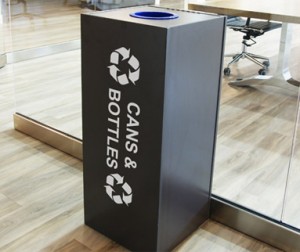 When most people think of recycling bins, they visualize plastic or metal bins that represent the majority of what we all see (and use) on a regular basis. Public amenities such as malls and parks often have these familiar recycling bins that most have become accustomed to using. Although these recycling units are great solutions for these locations, they aren't always ideal for indoor, office surroundings.
Office work environments generate a great deal of recyclable material and waste, and because of this most companies at the very least will pair a recycling container up with a garbage bin in their cafeteria or lunch room area. However, a large portion of the waste compiled occurs right in your office! Placing recycling units in centralized areas close to work stations ensures staff can quickly dispose of paper or recycled material without having to leave their general work-space. In doing so, you are reminding your employees to recycle, while making it convenient for them to do so.
Sometimes the appearance of a recycling bin is enough to discourage a company from placing containers in an open setting.  We understand this hesitation, and that is why we have come up with an exciting solution that functions as a recycling bin, but is also visually attractive! The Cube  was designed for those looking for a stylish, sleek collection alternative that blends seamlessly into any office environment. With its executive-like finish it easily complements most office décor.  Available in various wood-like finishes, you may choose the finish that best suits your office design. In addition to its classy look, this recycling receptacle is made from durable content, making it high in quality. Collect a variety of materials with optional lid openings that can be customized to your recycling program. To further promote your recycling efforts, decals are offered for the container as an indication of acceptable material. Without recycling signage or recycling labels, it's easy for contamination to occur.  As well, The Cube is available in multiple sizes to adhere to any height restrictions that may be encountered. Place a single unit in a high traffic area, or expand your collection system into a recycling station with additional units side by side. Have confidential paper that requires security? Choose the lockable option, and safely collect documents in the Cube.  The versatility that comes along with this recycling bin is endless!
Next time you're in need of a recycling solution for your office, set your eyes on The Cube…Because you CAN recycle without sacrificing aesthetics.
"From the Recycling Experts"
by Brooke Squires