The new 'Green Facts' Recycling Signage is now available from Busch Systems; a fun and appealing addition to the popular Waste Watcher Centralized Collection Containers.  For school recycling programs in colleges, universities, elementary and post-secondary schools, keeping the students and teachers informed about how they are "doing their part" to save the environment will increase participation rates and enthusiasm about recycling efforts.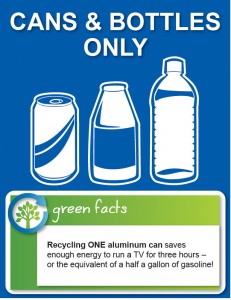 With Recycle Mania set to begin February 6- April 2, 2011, these free printable signs couldn't have come at a better time!  Now, colleges and universities can choose from a variety of colors, styles, and categories for their recycling bins and containers to enrich their sustainability programs.  Students and Faculty will find the recycling and waste signage easy to use and simple to understand.  The graphics are enlarged and vibrantly colored for easy visibility and interpretation. Designed to fit easily in the exclusive sign holders for the Waste Watcher Containers, the 25 'Green Facts' signs now available can be rotated often to keep participants engaged and motivated.
According to Busch Systems Marketing and Promotions Co-ordinator Mandy Bortolussi, "using the 'Green Facts' Recycling Signage is a great way to educate the public about how they are helping their environment.  Far too often, good deeds go overlooked and it was a great idea from our President, Craig Busch, to come up with the 'Green Facts' initiative: "Many schools have taken steps towards a more effective sustainability program and with Recycle Mania set to begin I am excited to see the results."
The Waste Watcher Collection Containers are an effective way to establish a new recycling program or update a current system in your school.  The containers are offered in a variety of colors with many lid styles to choose from.  If you are looking to separate your cans, bottles, glass, and paper efficiently, the Waste Watcher containers have unique connector kits available to create convenient, centralized recycling stations.  Now, with the free printable 'Green Facts' Recycling Signage, the Waste Watcher containers are sure to be a hit on college and university campuses as well as elementary and post-secondary school recycling programs.
For more information about the 'Green Facts' Recycling Signage, Waste Watcher Containers, or other Busch Systems Products, please visit www.buschsystems.com. Have a success story about your recycling program?  Tell us about it!  Email mandyb@buschsystems.com with your recycling achievements and enter to win a great prize for your school!