A favorite among universities and colleges, the In-door/Out-door Sort has recently become the most popular choice for campus recycling programs. So what makes this recycling station such a hit?
Durable Recycling Station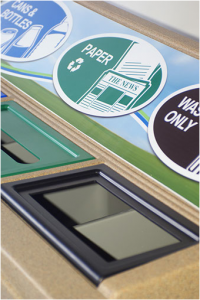 For starters, its rotationally molded design means the durability of this bin exceeds most standard recycling units.  When you have the option to invest in a recycling container that will stand-up to wear and tear for years, why purchase a low-priced recycling bin that is likely to fail relatively quickly? At the end of the day, the In-door/Out-door sort is financially more sensible, and will save you from costly replacement parts that alternative recycle bins may require. Built to handle extreme weather conditions, you can be confident in using it as an outdoor or indoor recycling unit!
Ergonomic Recycling Station 
Featuring front door access complete with built-in locks, this container's design makes collection a breeze!  Openings are texturized to avoid scratches, and are interchangeable so you can change the look of your container, as your recycling program changes. Benefit from all of this, while avoiding high container replacement costs! Time to get creative – doors are manufactured separately, allowing you to choose a two-toned look to complement your indoor and outdoor atmosphere. Adding custom signage and recycling labels gives the container a polished appearance, and educates your participants on the collection program.
Fully Customizable Recycling Collection Unit
There are endless options that will allow you to really make a statement with this bin!  If you are looking to introduce your recycling program, or increase recycling participation on Campus, choose the customized option. This service allows you to incorporate your school colors on the bin, along with your logo and any other information you want to highlight.
A Recycling Bin which Helps Keep Contamination Rates Down and Recycling Rates Up
"The Indoor Sorts have proven successful and have fit right in with our recycling program goals."
– Clemson University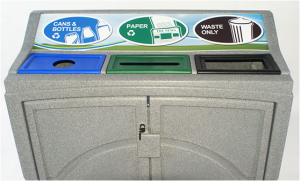 Sorting is a breeze with this recycling station, as it's designed with three 22 gallon liners to separate collection in order to prevent cross-contamination. Furthermore, when there are clear openings with recycling labels that notify users on how and where to recycle, you can bet they will be drawn to use it.
This recycling station has it all…durability, the ability to boost your school image, encourage green practices among your students and staff, and use a quality, versatile recycling station to do it!
It's time to take your recycling program to the next level!
by Brooke Squires