Barrie, Ontario, May 24, 2013 — Busch Systems has announced their latest recycling contest for colleges and universities. The "Like" the Link contest will award $9,000 worth of the new "Uptown" recycling stations for t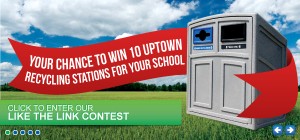 he campus recycling program of the winning school.
The contest allows schools to post a link to their school's recycling program webpage along with the chance to explain why their campus recycling program is deserving of the recycling stations. People will then be encouraged to vote for the college recycling program of their choice through a "Like" button on the Busch Systems website. The top 3 schools with the most "Likes" will be finalists in the contest. The winning school will be randomly selected from the top 3 with the winner receiving 10 "Uptown" outdoor recycling stations, a value of $9,000.
"This isn't our first recycling contest but it is our biggest prize to date", states Chris McBrien, Marketing Manager for Busch Systems. "The main idea behind the contest is that we've noticed colleges and universities tend to be trendsetters when it comes to recycling. As a result, we are encouraging schools to tell the world about their campus recycling program and get some publicity for their efforts."
The "Uptown" recycling stations are the latest addition to the Busch Systems line of recycling containers which now numbers over two hundred. These stations have proven to be incredibly popular in the market and the product's tagline, "Changing the Face of Outdoor Recycling" seems to be ringing true."The Uptown stations are a hit", states McBrien. "We saw this as an opportunity to get some of these units onto a campus. Colleges across North America have some of the best recycling programs imaginable and this contest allows them to share their program with others while gaining attention for their efforts. Not only can they boast a little about their recycling programs, they can also see what other schools across the country are doing. At the end of the day, everybody wins".
Although many schools have less students on campus during the summer months, this is an opportunity for colleges and universities to raise awareness for their recycling efforts prior to students returning in the fall.
"What better way for a school to promote recycling than to have returning students in the fall be greeted with brand new recycling stations on their campus?", states McBrien. "It's a great chance for schools to continue their efforts toward sustainability".
Busch Systems has been a world leader in the design and manufacturing of recycling, compost and waste containers since the company's inception in 1985. Busch Systems designs more new molded recycling and waste containers than all other manufacturers combined.
For detailed information on the "Like" the Link contest, please see: http://www.buschsystems.com/busch-systems-contests
---
Busch Systems International, Recycling Made Simple.
An industry leader for over twenty five years, Busch Systems has expanded internationally, with a product portfolio detailing upward of two hundred products. Busch Systems develops more new moulded recycling, waste and compost containers than all other manufacturers combined.
# # #