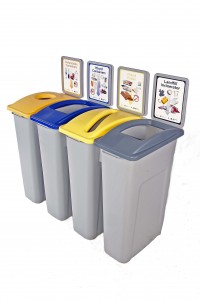 Barrie, Ontario, January 25, 2013 — The City of Vancouver's "Greenest City 2020" initiative is set to address environmental challenges and establish a path to sustainability for the city. The City's goal is to make Vancouver the Greenest City in the World by 2020. Busch Systems International is proud to be working with the City's Corporate Zero Waste Officer, Paul Gagnon, to develop recycling stations designed to offer staff and citizens who visit City facilities a variety of recycle options.
The customized Corporate Zero Waste Stations are designed to separate products into four streams of collection, thus helping the city to divert waste from the landfills and increase recycling rates. The City's Corporate Zero Waste target aims to reduce solid waste going to the landfill or incinerator by 50% from 2008 levels.
The recycling stations are an integral part of the Corporate Zero Waste Program and a key interface for staff and citizens who use city facilities. The present scope of work is to install Zero Waste Stations at all of the city corporate and public facilities to divert the present waste streams.
"The City of Vancouver should act as a model for others to follow", states Brandon Rutledge, National Accounts Manager for Busch Systems. "We at Busch Systems are proud to have the opportunity to work together in assisting the Corporate Zero Waste Program. What Paul Gagnon and his team at the City are striving toward is fantastic. Best of all, it is working".
Shortly after launching the program, an internal survey was posted with over 400 City staff responding. 97% of those polled support the program and 89% indicated that sorting their waste at the Corporate Zero Waste Stations was not difficult. At all facilities in which the program has been launched, the garbage was reduced by 50% within the first week and the diversion rate after two months was as high as 73%.
All of the waste streams are weighed before they are taken from each facility and the City then receives metrics from their contractor on a monthly basis. At present, 15 City facilities are included in the Corporate Zero Waste Program and by the end of 2013, over 70 facilities will be included.
For more information on the City of Vancouver Greenest City 2020 Action Plan, please visit:
http://vancouver.ca/green-vancouver/greenest-city-2020-action-plan.aspx
---
Busch Systems International, Recycling Made Simple.
An industry leader for over twenty five years, Busch Systems has expanded internationally, with a product portfolio detailing upward of two hundred products. Busch Systems develops more new molded recycling, waste and compost containers than all other manufacturers combined.
# # #