You know that your recycling program is saving the planet, but what about the people that are using your recycling program? Do they realize the impact they are having by dropping that soda can into the round slot in your recycling station? What if you could remind them just how important it is to recycle?
There are a few ways to kick your recycling program into high gear:
ONE – Make sure people are using your recycling program.
Oh sure, that's easy to say…. but in reality, it is even easier to do. Okay, I know what you're thinking:
"How do I get more people to use my recycling program and thus do my part in regard to environmental responsibility"?
Here's a simple answer. USE SIGNS.
So many recycling centers are marked using small labels which are only visible when you are right up to the bin itself. Imagine a stop sign that you couldn't see until you were right at the intersection. It wouldn't be very effective! People require signage to help them determine what course of action to take next. They know they are going to do something; they just need a little help in completing the task. Take the example of the stop sign….. the driver knows he is driving down the road and will have to make a stop at some point, he just doesn't know exactly when.
The same holds true for people using your recycling program. They are heading in the right direction, fully intent on doing the right thing, but if they are unclear as to where their recycled material goes, it is all for nothing.
The Waste Watcher sign kits from Busch Systems are a great example how to drive people to your recycling stations and make sure they use the bins correctly. Instead of a label stuck to the top of a recycling receptacle, the sign kits are upright and clearly marked. Just like the stop sign, you know far in advance just where you are going and what you are going to do when you get there. Best of all, so does everyone else!
This brings you to the second way to kick your recycling program into high gear:
TWO – Make sure people feel good about using your recycling stations.
People have become so accustomed to recycling that what is sometimes lost is the fact that
WHAT YOU DO REALLY MAKES A DIFFERENCE!
Here is your chance to remind them. The Waste Watcher sign kits from Busch Systems fit standard 8.5" x 11" paper so you can customize your own messages. If you like, you can visit the Busch Systems website and download pre-designed signs which convey the message for you.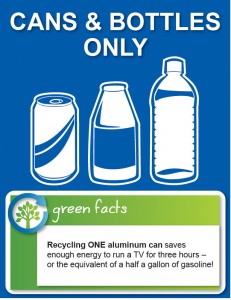 When you remind people of the importance of what they are doing, it empowers them to continue that behaviour. When that behaviour means a successful recycling program, we all win.
You.
Me.
Them.
And best of all….the planet.
Busch Systems has the world's largest, most complete line of recycling, waste and compost containers. As the industry leader for over 25 years, our innovative products have revolutionized the marketplace with unique, customized bins that maximize participation rates without sacrificing durability, function, economy and style. Busch Systems specializes in providing waste diversion solutions for home, office, government, educational, commercial and industrial settings. Our experienced recycling consultants can assist you in making your sustainability project a success! As part of our commitment to the community and the environment, all of our products contain a minimum of 35% recycled content and are proudly made in North America.