What Is STARS?
Colleges and universities are reaching for the STARS by putting a focus on campus sustainability!
The STARS (Sustainability Tracking Assessment and Rating System) program is a self-reporting rating system used by colleges and universities around the globe to measure and track their campus sustainability performance.
Sustainability programs and efforts in post-secondary schools around the world are becoming more and more important to not only the schools but also to the students. The STARS program creates the perfect opportunity for a college or university to show off their commitment to sustainability and propels the sustainability program forward.

How?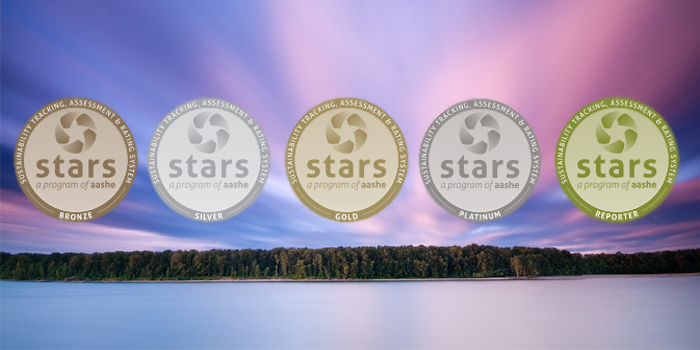 STARS rating system measures a Colleges or Universities sustainability performance based on the total amount of points earned from four different categories: Academics, Engagement, Operations, and Planning and Administration.
Up to four additional points can be earned for Innovation. This section evaluates innovative practices that may not necessarily fall under the 4 STARS categories but still promote sustainability in other new ways on campus.
Once the colleges or universities points have been totaled up, they are awarded a STARS ranking based on the score they received.
The 4 different levels of ranking are Bronze, Silver, Gold and Platinum. Scoring works as shown below.
| | |
| --- | --- |
| STARS Ranking | Minimum Score Required |
| Bronze | 25 |
| Silver | 45 |
| Gold | 65 |
| Platinum | 85 |
A ranking of "Reporter" is given to participating colleges and universities who either don't want their scores to be public or only join to receive the benefits of being a STARS member.

Why?
STARS offers many benefits to being a member and having a high ranking and score. These advantages include:
International recognition for your sustainability efforts.
Assistance in integrating sustainability into the curriculum and creating new ideas for sustainability projects on campus.
Works as a framework for understanding sustainability in all sectors of higher education
Creates incentives for continual improvement toward sustainability.
Builds a stronger, more diverse campus sustainability community.

Who?
Worldwide, 284 Colleges and Universities currently have STARS rankings. Some of the schools with outstanding sustainability efforts and scores to match include:
University of Louisville – Gold Ranking – 65.19 points
U of L received a grand total of 65.19 points giving them a Gold STARS rating! WOW! Earning a perfect score for campus engagement, and coordination, planning & Governance. The University of Louisville also received all four possible points for innovation. They were recognized for the creation of the Beargrass Falls Environmental Park. The Park is now used for sustainability and environmental research and as a part of the universities curriculum.
They were also recognized for their Nutrition Navigators and the U of L Smart Plate programs. These programs promote healthy living based on Nutrient Density, Caloric Density, Portion control and serving local and sustainable foods. Not only do these programs promote sustainability but they also get the students engaged in sustainability.
Go Cardinals Go!

Arizona State University – Gold Ranking – 69.70 points
Arizona State earned the majority of their points 69.70 points for their sustainable curriculum, campus engagement efforts, and also received all four innovation points. One of which was for taking part in the Zero Waste program and another was for their Net Zero energy NCAA softball stadium.
The Alberta B. Farrington Softball Stadium on campus at ASU is the first major NCAA venue in the nation to achieve carbon neutrality and a net zero status!
Go Sun Devils Go!

Colorado State University – Platinum Ranking – 85.29 points
Colorado State University is the first and the only university in the world to earn a platinum STARS ranking! CSU earned perfect point scores in numerous sections including Research, campus engagement, coordination, planning and governance and also received all 4 innovation points.
One of those four points was awarded for the CSU Energy Reserve Fund and another point for their alternative transportation efforts. Go Rams Go!
"Participating in the STARS program represents a commitment to sustainability that should be applauded!"
Reach for the STARS and see how well your college or university fares in environmental sustainability!

Sources