"A lot of work goes into filming" is definitely an understatement to anyone who works in the film, television, and commercial industry. The amount of time, effort and resources that go into creating movies, TV shows, and commercials are pretty staggering.
For everything that goes into creating entertainment of the visual variety, there's a potential for a lot of waste to come out of it. The wasteful nature of sets has long been considered as a necessary evil, something that couldn't be helped.
With the boom in sustainable practices becoming the norm and the masses paying more attention to the eco-friendly operation of practically every industry, it was only a matter of time before a spotlight was shone on the environmental efforts of the TV, movie, and commercial industry.
Waste being a necessary part of visual entertainment is an excuse that wasn't going to cut it anymore.

From Film School Grad to Eco-Supervisor
Emellie O'Brien aka "EOB" saw the wasteful habits of the industry and began Earth Angel, a company dedicated to helping productions make movies without making a mess.
EOB graduated with honors from NYU's Tisch School of the Arts with a B.F.A. in Film and Television and a minor in Producing. Armed with industry knowledge and a passion for the environment, she has served as Eco-Supervisor on several productions in both film and television.
Her impressive efforts (more on that below) on greening move sets have made her one of the East Coast's leading production Eco-Supervisors!

A More Sustainable Movie Set
Greening the filming process isn't achieved as fast as a snap of the clapboard. Earth Angel has figured out the formula for getting a production as close to zero waste as possible.
Here's how.
Conservation & Alternative Energy Solutions
Assists in diverting waste from productions through LEED-certified waste haulers reporting back the amount of waste diverted from landfills.
Sets up specialty recycling services for more complicated material including e-waste, hazardous material, textiles and construction materials.
Offers paperless office solutions.
Keeps all hands on set hydrated without the need for plastic bottles.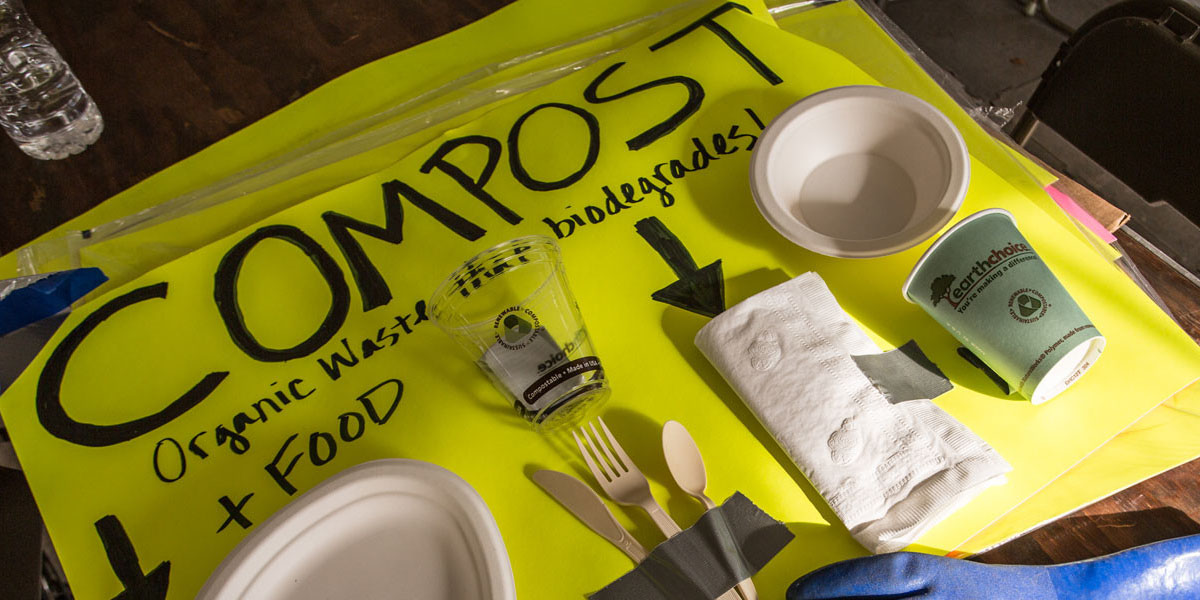 Alternative Energy & Conservation
Monitors energy use and fuel consumption and offers green alternatives.

Sustainable Sourcing
With partnerships with sustainable brands, Earth Angel assists productions with discounted green products that help support eco-conscious companies while cutting costs!

Community Outreach & Resource Management
Every department has a role in achieving zero waste. Earth Angel help productions achieve this through the donation of excess food, wardrobe, set decorations, props and extra raw materials to the local community.

Education & Engagement
Earth Angel serves as on-set sustainable spirit guides to help educate all bodies on environmental issues, engaging crew members by incentivizing green behaviors and making it fun for all involved.

Carbon Tracking & Reporting
Once a production wraps, data on electricity use, fuel consumption, flights, and waste reduction is compiled and calculated using the Producer's Guild of America Green's carbon calculator to show total emission reduction.
Earth Angel also compiles a sustainability report that shows a production's green accomplishments and showing areas of improvement.
Some notable productions that Earth Angel have assisted in lowering their environmental impact include Noah (2014) and The Amazing Spider-Man 2 (2014), the latter of which is one of the greenest movie productions to date.
Over the course of filming, The Amazing Spider-Man 2's team, with the help of Earth Angel, prevented the use of 193,000 plastic water bottles, recovered 5,681 meals which were donated to local shelters and touted a diversion rate of 52%, totaling 755 tons of material.
The team's combined sustainability efforts saved an estimated $400,000 by going green!

Earth (angel) Hour
The company's sustainability efforts go beyond the set as well. In honor of Earth Day, Earth Angel will be throwing its second annual Earth (angel) Hour at the Knitting Factory in Brooklyn, NY. It's a great way to participate in Earth Hour as well as celebrate sustainable filmmaking!
Kudos to Earth Angel and Emellie O'Brien for all they've accomplished in the few short years they've been in operation! Who knows, your next favorite movie or TV show could have Earth Angels green hands all over it.

Sources
http://www.hollywoodreporter.com/news/amazing-spider-man-2-honored-692925