While we continue to introduce new and innovative solutions to our collection of recycling bins, one particular series has grabbed the attention of many.
Although I have many customers who are happy with our various plastic recycling containers, we are receiving more requests for unique collection containers that don't resemble your typical recycling bin. I've personally noticed that hotels and government buildings in particular are keen on adding the Boka Series metal recycling bin to their recycling program. They are pleased to discover options that are aesthetically pleasing and blend into their work environment.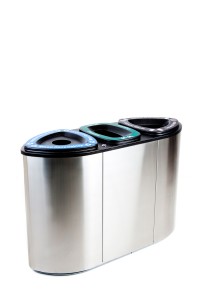 The attractive Boka bin has a sleek and classy design that is hard to find anywhere else.  Its metal make-up is an exceptional choice for those seeking fire-resistant recycling and waste collection solutions. Fire safety is an important part of every good recycling program, and many businesses must adopt containers that are compliant with specific fire policies. Another feature my customers like about the Boka bin is the high quality that comes along with it. These units truly stand alone in regard to their elegant look and design.
I am a big believer in this bin and I'm thrilled that my customers are jumping on board with implementing this series.  We represent much more than your standard blue bin and it's exciting to provide recycling solutions that are one of a kind.  Every recycling program is unique, and that's why we are constantly adding new, diverse products to choose from.  Available as a single, double, or triple station, you really can't go wrong with the Boka!
"From the Recycling Experts"
by Brooke Craft