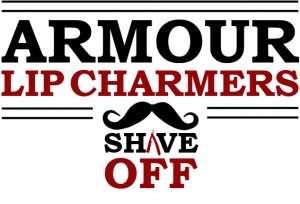 Barrie, Ontario, November 26, 2012 — A local IT company has paired with a recycling bin manufacturer to end "Movember" with a "Shave Off" event. Armour Technology Solutions, which sponsors the "Armour Lip Charmours" Movember team has joined with Busch Systems, the largest manufacturer of recycling bins in the world, to hold the event marking the end of Movember with an event on Friday, November 30th beginning at noon.
The Movember campaign is an annual event where men across the world grow moustaches while raising funds and awareness for men's health, specifically prostate cancer. Originally started in Melbourne, Australia, Movember has 'grown' to epic proportions. In 2011, over 854,000 men around the world participated, raising $125.7 million CAD.
"Having a father who has dealt with prostate cancer, this is a very personal issue for my family", states Marty Pepper, team captain of the "Armour Lip Charmours" who is joined on the team by his 8-year-old son, Cameron. "Having my son wear a pencilled moustache has been a great way to get involved and show our support".
Cameron Pepper has garnered a great deal of press both locally and nationally for his efforts. "I don't care if people laugh at me", states Cameron Pepper of donning his 'fake' moustache. "I want to help people that have prostate cancer and help my Grandpa Doug that had prostate cancer".
Cameron isn't the only unique member of the team to gain attention. Shari McNamara has joined the team and sports a different pencilled moustache every day in support of the cause. "I believe women can help too", states McNamara. "The more people we have raising funds, the better things will be for those afflicted with prostate cancer as well as their loved ones".
The event on Friday, November 30th will take place at Busch Systems in Barrie and will consist of such events as a "Movember Shave Off", 50/50 draw, Toonie Toss, Movember cake and a pizza lunch sponsored by Panago. CTV News Barrie will be in attendance and all members of the press are welcome and encouraged to attend.
For the "Armour Lip Charmours" Movember team page, please visit http://ca.movember.com/team/428537
---
Armour Technology Solutions, Making IT easy.
# # #