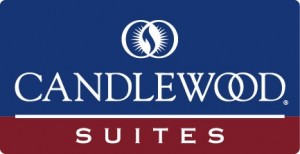 After looking around for months for recycling containers, we had decided to give up.  We could not find anything that was affordable, or that would fit into our lobby or hallway comfortably-everything was too big, and too expensive.  One day while I was researching online, I ran across the Busch Systems website.  To my surprise, they had exactly what we were looking for in a hotel recycling program!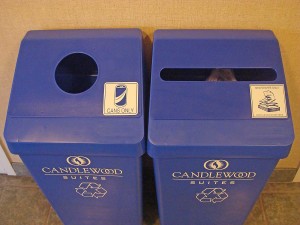 The fact that we could customize our containers was amazing!  I think that just adds a special touch when our guests see that-it shows that we care about our environment, as well as our guests.  The IHG Brand is really focused on going "green", like many companies.  We are starting small, but we purchased the aluminum and the newspaper recycling bins.  Our recycling bins are placed on either side of a trash can in our hallway-this way; guests can see that instead of throwing away their aluminum cans and their newspapers, we offer a better alternative for them.
Working with Donna Hovey at Busch Systems was a true pleasure.  She was very helpful, informative, and patient.  We chose Busch Systems due to the great customer service, and the very competitive pricing.
J. M.
Candlewood Suites
Junction City, KS