Barrie, ON – May 18, 2010 – Busch Systems has launched their newest line of recycling bins. The 'Wave Series' features two new recycling containers designed for high traffic areas. The 'Wave Solo & Duo' are perfect for outdoor amusement parks or stadiums, as well as, easy to clean and ideal for indoor applications such as malls or schools.
Busch Systems has been the North American leader of waste and recycling containers for the past twenty five years. They set the industry standard for the yearly production of new molded bins. Each container manufactured by the company is 100% recyclable, made in North America and contains a minimum of 35% recycled content. The 'Wave Solo & Duo' are the next generation of Busch recycling containers. The 'Wave Solo' is designed for single-stream collection and the 'Wave Duo' is designed for multi-stream collection.
The 'Wave Series' is designed to optimize valuable space in high traffic areas, such as, food courts. The lid of the container has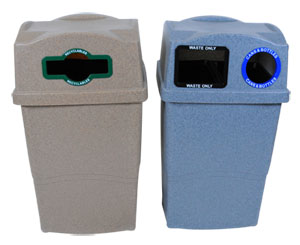 retention bumps across each side which creates a secure space for food trays to nest inside each other. The containers are also fitted with an adjustable hinge which allows the lid to be swiveled to the side. This makes it easier and faster to collect materials.
The inside of the 'Wave Solo & Duo' is curved inward so that water can drain out easily; keeping the containers clean and odor free. The new recycling bins are also lined with high quality plastic compartments which are fitted with grip handles. The twenty gallon liners are easy remove, collect and clean.
According to Craig Busch, Chief Executive and President of Busch Systems, "The new 'Wave Solo & Duo' recycling bins have the durability and capacity of outdoor containers, with the odor resistance and versatility of indoor recycling containers. We are pleased to offer our customers these complete bin ideal for any of the tight spaces available at amusements parks, recreational centers, schools or malls."
For information: www.buschsystems.com
Contact: 1-800-565-9931
###