How many plastic bottles do you use over the course of a year? Probably a lot more than you can imagine. Instead of tossing them all into the recycling bin, why not reuse them! Plastic bottles can be repurposed in new, creative, and eco-friendly ways instead of being tossed into the recycling bin without a second thought.
Plastic bottles are made of Polyethylene terephthalate (PET) which is a type of synthetic resin that is made out of ethylene glycol and terephthalic acid making it a very sturdy plastic – making it a perfect material to reuse and repurpose into something new!
Here are 10 creative and easy ways to reuse the plastic bottles you have at home!
*DISCLAIMER – always use caution when using scissors, Exacto-knives and other implements of slicing-and-dicing.

PET LED Light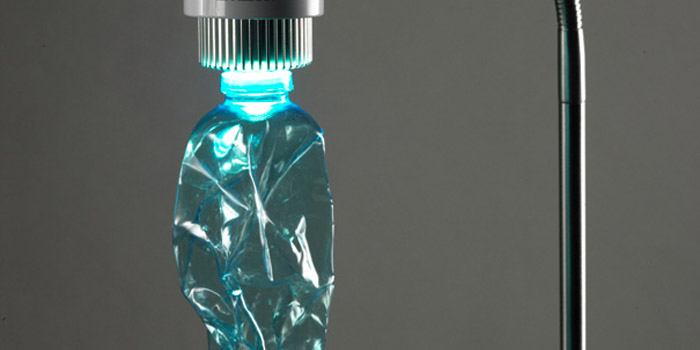 Take an empty bottle, then squeeze it into a random shape, and then purchase yourself an LED light module. Take the squeezed plastic bottle and attach it to the LED light. Now you have your own customized LED plastic light! Since LED lights give off very little heat compared to incandescent bulbs, there's no worry about the plastic bottle melting!
The benefit of using LED lights is that LED's are an energy efficient technology that saves energy and reduces the cost of electricity.
For further information, please visit http://energy.gov/energysaver/led-lighting

A Flower Vase
All it takes is a few cuts and some folding and voila! You have yourself a decorative flower vase to show off the beautiful bloomers of your choice. Here's how:

Plastic Bottle Guitar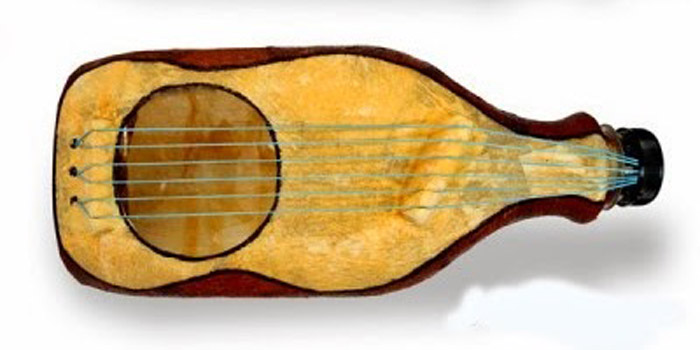 This is a very cool and creative craft. By reusing a plastic bottle you can build an instrument that can be used as a decoration, or as an eco-friendly toy for your children. You can do this to teach your children how to be creative and aware of how to be more eco-friendly through upcycling. Check out the link to learn how it's made.
http://populardiycrafts.blogspot.ca/2013/09/how-to-make-plastic-bottle-guitar.html.

Upcycled Jewelry Stand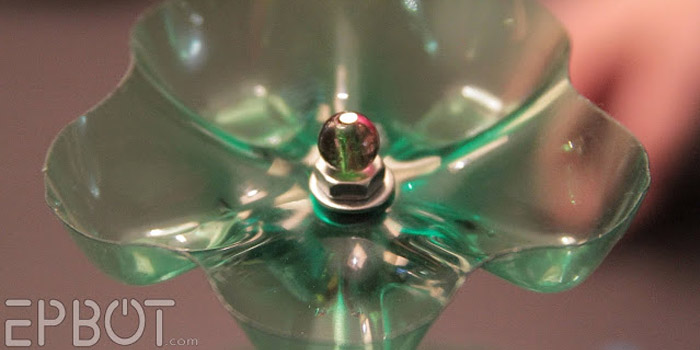 Here's a wonderful and creative idea that can be a gift for your jewelry-loving friend or you can use it for your own bling! It is a magnificent way to get creative and make something yourself instead of buying a jewelry stand at a store. Doing this will put your creative abilities to the test while making you a sustainability ally. Check out the link below to find out more!
http://www.epbot.com/2012/03/dew-it-yourself-jewelry-stand.html

Sink Extender for your Children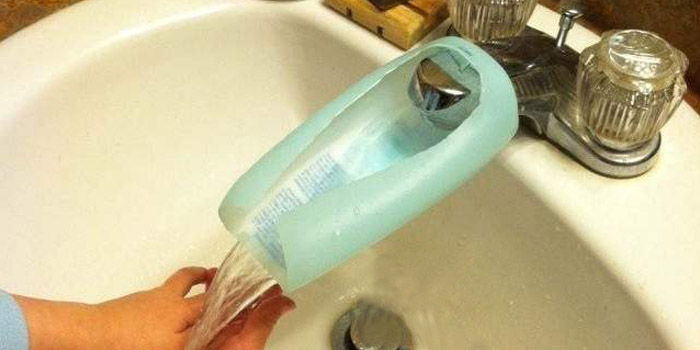 When kids are done playing outside, their hands are guaranteed to be dirty. If the sink in your house isn't at the right height for your little minion to reach when they wash their hands, here is a unique and sustainable idea to make it easier for them!  Check it out:
http://www.lifehack.org/articles/lifestyle/30-mind-blowing-ways-upcycle-plastic-bottles-home-and-the-office.html

Colorful Lights for your Patio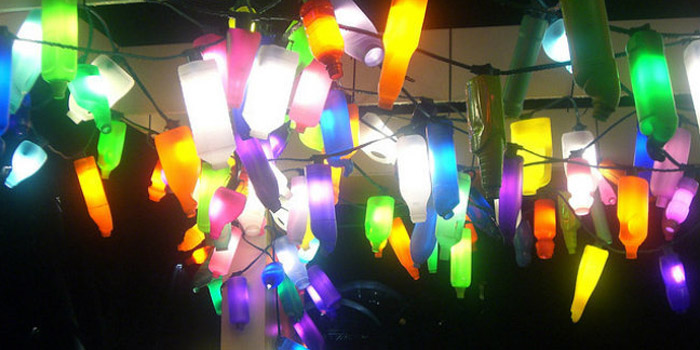 It's nearly summertime, which means one thing – barbecue on the patio! You're probably bursting to invite friends over and have a small summer soiree in your backyard. What better way to light up the patio than using some string lights? This eco-friendly idea will add splashes of color and a sustainable touch to your summer party! If you are curious as to how, check out the link!
How to Make Seasonal Patio Lights from Plastic Bottles (motherhooddefined.com)

Innovative name tags for your Garden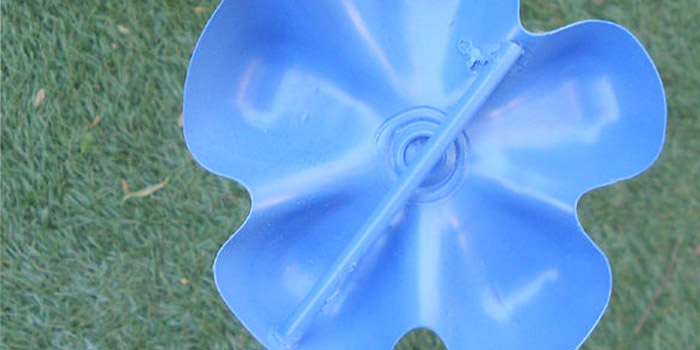 Do you love gardening? Are you also interested in recycling and sustainability? Here is a way you can make your garden more eye-catching and sustainable with unique name tags made from plastic bottles. Here is the link that will show you how to decorate your garden and make it look fabulous and eco-friendly!
http://www.instructables.com/id/Plastic-herb-name-tags/step4/Spray-paint/

Plastic Bottle Broom
Is your broom no longer in good shape and you're thinking about buying a new one? What would you say if we told you that you can make your own broom instead of spending money on one? Check out the video below to see how you can make your own eco-friendly, plastic bottle broom!

Creative Packaging for Baked Goods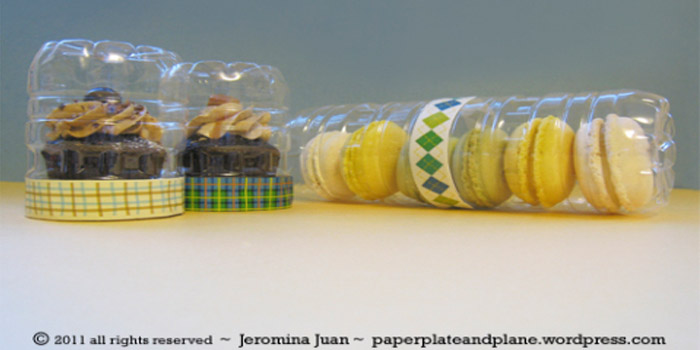 Do you love baking? Do you like giving baked goods as a gift to friends and co-workers?
Here is a very cool and sustainable way to package those delicious goodies:
https://paperplateandplane.wordpress.com/2011/09/25/recycled-packaging-for-cupcakes-cookies-and-macarons/

Unique Spoon
If you are camping and forgot to pack spoons or there is no place around where you can get spoons, here is a helpful and creative way to make one yourself! Check the video below to see how it's done!

These were just some of our favorites! Have you come up with any unique ways to repurpose a plastic bottle? Let us know!

Sources
http://www.yankodesign.com/2010/10/22/bottle-so-beautiful-and-full-of-light/
https://www.youtube.com/watch?v=_U4dREeFWCk
http://populardiycrafts.blogspot.ca/2013/09/how-to-make-plastic-bottle-guitar.html
http://www.epbot.com/2012/03/dew-it-yourself-jewelry-stand.html
http://www.lifehack.org/articles/lifestyle/30-mind-blowing-ways-upcycle-plastic-bottles-home-and-the-office.html
http://www.instructables.com/id/Plastic-herb-name-tags/step4/Spray-paint/
https://www.youtube.com/watch?v=QFrIsUqKUUM
https://paperplateandplane.wordpress.com/2011/09/25/recycled-packaging-for-cupcakes-cookies-and-macarons/
 http://www.socreativethings.com/9-creative-ideas-to-reuse-plastic-bottles/