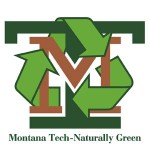 MONTANA TECH WINS FACEBOOK CONTEST
Congratulations to our Winner of $5,000 in Busch Systems Recycling Bins!
An exciting accomplishment for the Midwest Region! Montana Tech who landed a spot in our top 3 finalists for their campus recycling logo, came out on top winning the grand prize of $5000 in Busch recycling bins! The University Of Illinois At Chicago also one of our 3 finalists, received the highest number of votes for their creative logo, and were awarded $1000 in recycling containers for their tremendous efforts! The contest ran as a lead-up to the "Recyclemania" national campaign which promotes recycling across college and university campuses.
With the decision to purchase 251 Deskside recycling containers and 4 outdoor Super Sorter recycling bins with their winnings, Montana Tech is confident recycling rates among campus will increase. Founded in 1900, Montana Tech of the University of Montana boasts a campus comprised of four colleges and schools located in Butte, Montana. The student body of almost 3000 is enrolled in studies varying from engineering to liberal arts.
PROMOTIONS
I don't want you to miss out on any of our monthly promotions – so please be sure to check out our promotions page regularly.  Here is the link to add to your favorites:
http://www.buschsystems.com/Promotions.html
To ensure you automatically receive notifying emails be sure to join our email list!
Welcome to the KidZone for Sustainable Kids!
Kids Recycle Too! Children are our future and teaching them the importance and skill of recycling at an early age will help ensure the longevity of our planet. Our new "KidZone" line of recycling containers is made specifically with kids in mind. Made up of familiar primary colors, these bright and kid-friendly recycling bins are sure to be a hit in schools!
Don't forget to check out our Recycling for Kids Resource page. This page is aimed at educating children about recycling while having a great time in the process!  Full of activities and useful learning tools such as coloring pages and certificates, educating these recycling rookies will be a breeze!
LOOK WHAT YOUR NEIGHBOR DID!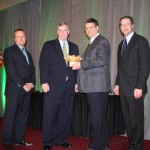 A  Journey to Zero Waste – Piazza Produce shares their story
After a long-term commitment, Piazza Produce proves zero –waste is in fact achievable! Although their success didn't happen overnight, their end result demonstrates that hard work and dedication pays off in more ways than one.
In 2005 their sustainable efforts took off. Following high waste bills, Facilities Manager Scott Lutocka took it upon himself to have a waste audit performed. This examination revealed their waste stream could be reduced by as much as 50% if alterations were made to their collection, ensuring recyclable material was in fact recycled, and not discarded as waste. Knowing this, they began first by diverting cardboard out of the waste stream and instead recycled it.
These simple modifications significantly reduced their waste stream, and the amount of cardboard that was taken directly to the paper mill actually produced income for the company.
Realizing the benefits that come with recycling, in 2009 Piazza Produce changed waste removal companies in an effort to further reduce their costs. To assist with this goal, they implemented an office paper recycling program, mixed recycling program and partnered with both RockTenn and ITW Angleboard for cardboard and plastics recycling, receiving funds for submitted materials.
Adapting this comprehensive recycling program proved to pay off in April 2011, when Piazza Produce achieved an 85% reduction in their waste stream.  This success motivated them to act even further, joining the Indiana Recycling Coalition in July 2011. After attending a national recycling convention sponsored by the IRC, Scott participated in a Zero Waste Seminar that took place in Indianapolis.  Initially going into the conference unfamiliar with the concept of "Zero Waste", he quickly realized it was an achievable goal for his organization.  Shortly after, Piazza Produce was given their compost permit through IDEM (Indiana Department of Environmental Management) allowing them to formally launch a composting program for their organics on November 1st, 2011. Only two months later in December 2011, they successfully achieved zero waste.
In honor of Earth Day, Piazza Produce continues its devotion to our environment by sponsoring an employee electronic recycling program, whereby staff can bring in old electronics for proper disposal.
Piazza's Zero Waste status has generated more than $46,000 in income, which negated its expenditures for the year and produced a profit of $30,000. We'd like to Congratulate Scott and his team for their achievement and inspiration! Thanks to Scott Lutocka for kindly submitting this story.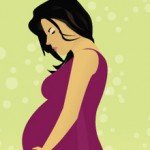 Bun in the Oven!      
That's Right …Your Customer Service Rep Holly, is pleased to announce the arrival of her first baby this fall!
Excited for her little one on the way, she is choosing to keep the sex of the baby a surprise until birth!  So, which will it be… pink or blue? Stay tuned for our next edition to receive additional baby updates!

E-waste is now the fastest-growing component of the municipal solid waste stream. With people upgrading electronics such as mobile phones at a higher rate than ever before, recycling efforts are extremely important. Finding appropriate bins for this customized collection can be a challenge. Luckily, it doesn't have to be difficult anymore.
This article shows how your electronics recycling program can be made simple and effective:
CPR-Cellphone Recycler_BuschSystems

We use these words often in our industry, but do you really know what their true meaning is?  You may be surprised!
E-WASTE = Any discarded electronic or electrical devices or their parts; also called electronic waste
GREEN ENERGY = Electricity, power or fuel that is derived from renewable and sustainable sources – that is, sources we won't run out of – without damaging the environment on a long-term basis.
Did you know?
Electronic waste (e-waste) now makes up five percent of all municipal solid waste, making it almost equal to the amount of plastic packaging in our landfills.
Large volumes of electronics also mean large volumes of batteries. Don't let battery collection get you burned out! Using a Battery Collection Bin is a simple and effective solution to your collection needs.

See What YOU Shared Last Quarter
Q – "I love your stackable Multi Recycler containers. In addition to collecting recyclables, we also use them in our child care facility to store toys and art supplies. Great products!"
-D.M., Chicago, IL
Dear D.M.,
I am delighted to hear that!  The Multi Recyclers are definitely living up to their name.  I love hearing about the different ways people are using this container. I have a stack of three in my laundry room that I use for my sewing material and other odds and ends. Way to go D.M. in Chicago!
Sincerely,
Donna Hovey
Q – "With tax season upon us, what would you recommend for collecting private documents? Security is important for us and we need a convenient solution. Thanks!"
-S.L., Minneapolis, MN
Dear S.L.,
This is a fantastic question and security, especially this time of year is very important. Busch Systems offers a secure collection line. The DuraFlex Console has a 70-80 lbs capacity and is great for an office environment. If you run a home business the PDC (Personal Document Container) may be the perfect fit. We also have the Shredinator, which is available in three sizes 16, 20 & 23 gallons and offers a tamper-proof lid. Specifications on these products can be obtained on our website.  http://www.buschsystems.com/recycling-container-bin-cart-products/confidential-document-destruction-bins
Sincerely,
Donna Hovey
Q – "I loved the bottle recycling container that you featured. How many would I need to order to get them customized?"
-C.R., St. Louis, MO
Dear C.R.,
Excellent question! Would you believe that you can order as little as one Big Bottle Recycler and have it customized to fit your program? That's right, just one. Now anyone can highlight their recycling program, school, company, etc… Recycling and customization have never been easier. Thanks for your interest.
Sincerely,
Donna Hovey
Questions:
Do you have a question you would like answered about our containers or recycling programs?  Please email me directly and I will be happy to reply with an answer – I will then feature your question and my answer in the next issue of the Midwest Recyclers Digest.
Share:
Have you come across an interesting article or fact that you would like to share?  Send it my way and I would be happy to include it in upcoming editions.
Ideas:
Is there a product idea or modification you have in mind?  I would love to hear all about it!