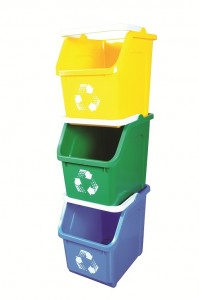 Here at Busch we're always trying to come up with new ways to reduce, reuse and recycle. That's just what we do! Not only in the products we make, but something as simple as bringing our lunch in reusable containers we have always done the best we can to follow those three R's. That's why I get so excited when I hear about clients finding new and creative ways to use our products; another way to reuse! Using recycling bins for things other than recycling…. What a concept!
Just recently I've noticed colleges and universities really taking a liking to our Multi Recycler because it can be used for so many things! Not only for use as recycling containers but students can use it for carrying groceries, storing their stuff, cleaning up, you name it! Not to mention they're stackable so they take up very little space in a dorm room, which is always limited for space. I love to hear that people are getting creative and finding ways to reuse, especially on campus.
I get the chance to work pretty closely with colleges on their recycling programs, especially when it comes to their recycling container needs. It's always nice to be able to offer recycle bins as a solution for things other than recyclables collection! It's just another great part of working for Busch Systems!
"From the Recycling Experts"
by Brooke Craft