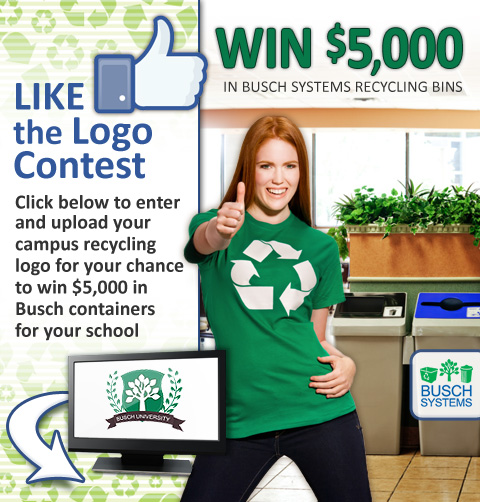 We've reached the end of the "Like the Logo" Facebook contest and couldn't be happier with the final outcome. With a total of 37 campus recycling logo entries from Colleges and Universities across North America, it has been a very successful campaign and the first of its kind for Busch Systems. The feedback we've received throughout the past month has been nothing but positive, and we couldn't have done it without the support of those who participated!
We were extremely pleased to see the number of schools that took advantage of this opportunity in support of their school's recycling program. The participation level proved students are passionate about recycling and highly dedicated to improving their campus recycling program. When asked to describe why their campus recycling logo was best in North America, each response showed a great deal of school spirit, reflecting their school's recycling goals and values.
As outlined in the contest rules and regulations, the three logos with the most votes were entered into a random draw to determine the ultimate winner.
The Results Are In ….  
A BIG thank you and congratulations goes out to our "Final 3" participants which garnered the most votes for their school recycling logos:
Well Done!
And now……
The Winner of $5,000 in Busch Systems Recycling Bins!
CONGRATULATIONS TO MONTANA TECH!!!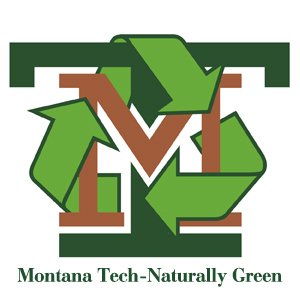 Not leaving empty handed is University of Illinois at Chicago and North Carolina State University who were each awarded $1,000.00 in recycling containers after Craig Busch, President of Busch Systems, insisted on rewarding their strong efforts.
We'd truly like to thank every University and College that was a part of this contest. We couldn't be happier with the involvement and we've been pleasantly surprised with the creativity levels that were presented here! Every logo was unique and did an excellent job showcasing their commitment to recycling, and a sustainable campus.
Lastly, we want to thank everyone who voted for their favourite logo! We couldn't have completed this campaign without your input! A big "thank you" goes out to all the students and voters for putting on a big push and spreading the word through social media; you made the "Like the Logo" Contest a Success!
Keep up the "green" spirit, and keep spreading the word about your recycling efforts on campus!