In August 2010, Warren County Middle School moved into its new building.  The old high school had undergone a remarkable transformation and it was a pleasure to be in a 'brand new' building, have a fantastic new gym, and finally boast of having an auditorium and being able to have school assemblies there and not in an old gym!!
However, despite all this, we knew that our previous recycling program was not going to work.  With all of this new space—being on two floors, not one– we needed another way to recycle in our school.  We wanted a way that would be efficient, a way that would not disturb classes, and a way that was going to be attractive and motivating.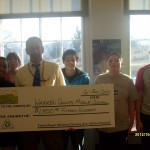 I applied for a grant to assist in the purchase of containers to be placed around our hallways…on both floors.  Through the generosity of a private donor, and with the assistance of the Warren County Anti Litter Committee, we were able to purchase recycling containers— finally!  The Anti Litter Committee awarded our program the bulk of the money needed to purchase containers we so desperately needed for our school.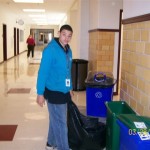 After looking through various websites of various companies, I felt that Busch Systems offered the most attractive and efficient recycling containers…at a reasonable price.  With the help of the very patient and very friendly sales staff, we were able to put together our first order in January.  I'm pleased to say that after delivery, we put our containers to use immediately.  These containers looked good in our hallways…and, the different colors and labels made it easy for students and adults to know which one to use for paper and which for plastic bottles and cans.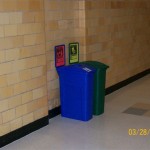 We still needed a few more recycling containers, so, in March, we ordered a few more hall recycle containers with sign frames.  The front hallway received two sign frames on the containers; this made the most sense as the auditorium was close by and, in addition to staff and students, the general public would have access to these containers.  I like that I can download different signs to add interest as well as information and reasons for recycling.
I'm very pleased with Busch Systems, and all the assistance in getting our recycling program off the ground and running smoothly.  In a building with over 900 students– as well as teachers and other staff– this wasn't only important…but absolutely necessary if we were to recycle successfully.
Jeff,
Warren County Middle School