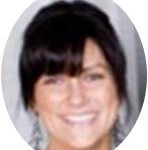 After having the pleasure of staying home with her beautiful son for the past year, Terri has returned from her maternity leave eager to get back in touch with the west coast.  Prior to her leave from Busch Systems, Terri had taken care of the needs of the west coast for 2 years and worked with many great customers whom she is looking forward to re-connecting with.  We are excited to have Terri back on the Busch team and are confident the west coast will welcome her back with open arms.   For those of you attending the Residential Recycling Conference in Dallas at the end of March, be sure to stop by the Busch booth to personally welcome Terri back!
The "West Side" Story
So what's the story on the west coast now that Terri has returned?  She is now surrounded by a knowledgeable and supportive team, comprised of 4 members (including her).  Cory Layes, Gabriela Corado and Pamela Cobb are the additional members who are all working together to ensure each division of the west coast are fully taken care of.  Here is how this super team is broken down:
Cory Layes
Distributors
Sanitation/Janitorial
 Gabriela Corado
Convention Centers
Stadiums
Aquariums/Zoos
Pamela Cobb is the Customer Service Representative for the entire west coast team.  Terri Mainprize will be taking care of all remaining sectors.  The entire west coast team is thrilled to be working together to ensure the needs of their territory are being met and exceeded.

Welcome to the KidZone!
Launched in February 2012, the Busch Systems Recycling for Kids webpage has been receiving many positive reviews.  Here you will find fun activities and useful learning tools for kids.  In addition, we have recently introduced various kid friendly recycling containers – including the Kidz-Sort.
These newly created containers are perfect for any K-8 school, featuring the primary colors and fun use of decals.  Check out our Recycling for Kids webpage for more information.  www.recycling-for-kids.com

Renter's Right to Recycle Act
In California an act to mandate residential recycling in multifamily dwellings has recently passed.  Presently, fewer than 40% of persons living in multifamily dwellings have access to residential recycling.  With the passing of the Renter's Right to Recycle Act, all multifamily dwellings with five or more units will have access to recycling services at their residence.  Is this the start of a trend to be quickly followed by surrounding states?  Perhaps this new act will prompt property management companies close to CA to evaluate their recycling service and container options.

E-Waste Containers Growing Demand
In the age of electronics it is more important than ever to offer recycling options for items such as cell phones and batteries.  These items are not typically accepted in residential collection, though drop off locations are common.  Busch Systems has met the demand for such stream collections by introducing these e-waste bins:
Why recycle your cell phones?  Most importantly, you are helping the environment by keeping these electronics out of landfills.  In addition, by recycling your device you are helping decrease the need for raw materials required for new product manufacturing.  Want to learn more about these new e-waste containers?  Contact your west coast rep today!