Communicating your recycling program takes smart choices. It also takes smart recycling bins. By choosing containers with multiple options for clearly communicating your collection program, you will increase your success rates.
The color of a collection container can go a long way toward letting people know what goes in the bin. As a rule, blue containers represent recycling bins, whereas black generally denotes trash bins. This is a great place to start when selecting the right containers.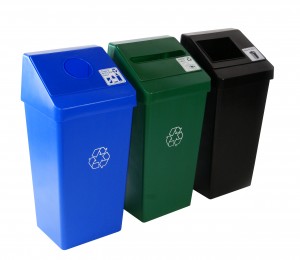 Lids are another excellent way to let people know the intended contents for each bin. Choosing a lid with a round hole lets people know that cans and bottles are meant for collection. A large, square or rectangular opening often denotes the bin is meant for trash collection. Better still, if you can color coordinate each lid, it will further bolster your rates of separation.
Using labels which clearly depict the bin's function will also help your recycling rates. Labels which include both text and diagrams are the best for communicating your program.
Finally, making the bins easy to use is crucial. Choosing bins with slanted lids at a convenient height can only help in your diversion rates.
The Smart Sort collection bins fit all of the above criteria and could be just the solution to your recycling and waste collection needs. By making recycling easy to understand and simple to use, you will easily help communicate the message of your program to everyone.
"From the Recycling Experts"
by Chris McBrien