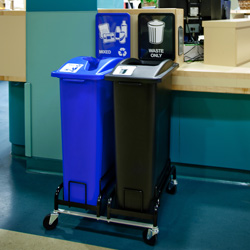 We knew the response to our Build-a-bin platform would be great, but we didn't expect customized recycling stations to flow in at the volume that they have been so far. People and organizations all over North America and the neighboring continents have been submitting their personalized Waste Watcher Series recycling bins in hopes of either beginning or improving their recycling programs—and of course getting the chance to receive a credit of $250 in the process.
Build-a-bin is an easy to use platform that can be accessed from our Busch Systems website under the Build-a-bin tab. Once you've found the webpage, you'll have immediate access to customize and create your very own Waste Watcher Series recycling container with an abundance of customization options that Busch Systems offers.
To enter the Build-a-bin contest, simply design your own Waste Watcher Series recycling station however you'd like. Whether it's one dark green Waste Watcher recycling bin with a diamond cut out lid or the whole kitten caboodle of four bins with all the fixings, you're immediately entered into the contest once you click "submit".
Once you've submitted your design, one of our experienced Sales Managers will get in contact with you to help you choose the right recycling bin(s) for your program. And don't worry, they are dedicated to ensuring your recycling program is successful—and stays that way—whether you're a large corporation, small organization or a single homeowner.
Choosing the right amount and style of recycling bins is paramount to the success of any recycling program. If you have too many recycling bins and recycling stations, it makes all of the recyclable content hard to collect, and ultimately leaves your cleaning staff overwhelmed. And if you have too little recycling bins and stations, things can get messy and your recyclables will be even harder to collect.
The key is finding the perfect balance.
So let us help! Our Sales Managers have been there, seen that and bought the "I recycle, I wore this t-shirt yesterday" shirt, so their ready to help your recycling program flourish no matter what your current situation may be.
With all that said, there are only 15 days left in the Build-a-bin contest, so be sure that you head to our Build-a-bin page and submit your design before February 28th 2014! This will guarantee you have a chance at receiving a cool $250 towards your purchase! Nothing gets your recycling program heading in the right direction like saving money even before you collect your first bottle, can or piece of paper.