LOOK WHAT YOUR NEIGHBOR DID!
We are increasingly seeing a growing interest in recycling efforts throughout the hospitality industry.  More than ever before, hotels are putting a strong emphasis on improving their facilities to reflect a more eco-friendly image. The choice to implement a recycling program within your hotel facility encourages environmentally friendly behavior by your guests and staff in order to significantly contribute to a cleaner and more organized facility.
Don't take our word for it; hear it from Candlewood Suites themselves!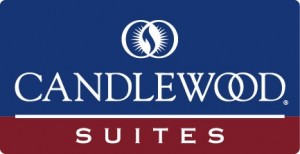 Hotel Recycling Made Simple with Busch Systems Recycle Bins
After looking around for months for recycling containers, we had decided to give up.  We could not find anything that was affordable, or that would fit into our lobby or hallway comfortably; everything was too big and too expensive.  One day while I was researching online, I ran across the Busch Systems website.  To my surprise, they had exactly what we were looking for in a recycling program!
The fact that we could customize our containers was amazing!  I think that just adds a special touch when our guests see that we care about our environment, as well as our guests.  The IHG brand is really focused on going "green", like many companies.  We are starting small, but we purchased the aluminum and the newspaper recycling bins.  Our recycling bins are placed on either side of a trash can in our hallway; this way, guests can see that instead of throwing away their aluminum cans and their newspapers, we offer a better alternative for them.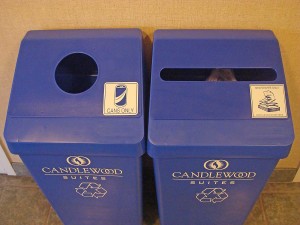 Working with Donna Hovey at Busch Systems was a true pleasure.  She was very helpful, informative, and patient.  We chose Busch Systems due to the great customer service, and the very competitive pricing.
J. M.
Candlewood Suites
Junction City, KS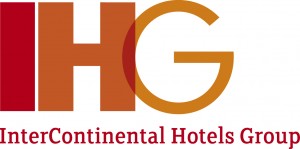 PROMOTIONS
I don't want you to miss out on any of our monthly promotions – so please be sure to check out our website regularly.
To ensure you automatically receive notifying emails be sure to join our email list!
SO-LONG HOLLY!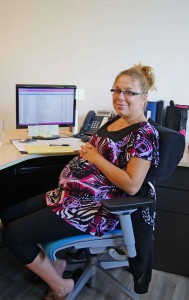 As you take your maternity leave….we also want you to take our very best wishes for a happy and healthy baby GIRL!
That's right, Holly is excited to reveal that the little one soon to arrive in October will be a beautiful baby girl! Unfortunately for us, saying goodbye to an amazing team member as she goes on her maternity leave, September 14th will be a day of mixed feelings.  Although we will miss her greatly, everyone here at Busch Systems wishes her and her new family the very best as she enters into a wonderful new chapter of parenthood!
So what will happen to the Mid-West? Not to worry! Donna will continue to look after you, handling all customer inquiries going forward.  She is happy to carry on relationships with you all and we are confident you will receive the immediate support and service you do now.
PRODUCT BUZZ  
Feeling Blue About Your Recycling Bins?
Maybe it's time for a re-design! If you could choose any color for your recycling container, what would it be?  Take our poll on Facebook and Pick YOUR bin.
Your input matters, and we'd love to hear the color you long for! It may just be implemented next time you are ready to purchase.
Click Here
http://www.facebook.com/BuschSystems

It is approaching that time again…Back to school is around the corner! Is your college campus equipped for a green and clean school year?
Find out why an eco-friendly university or college is important, and the easy steps to make this happen!
Green Man on Campus: Why Your University or College Campus Should Be Eco-Friendly

How Green Are You?
See how your eco-knowledge measures up!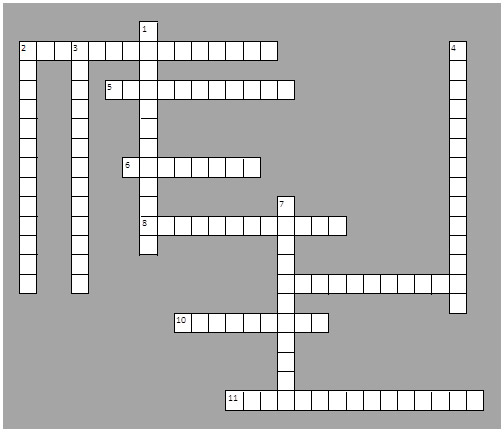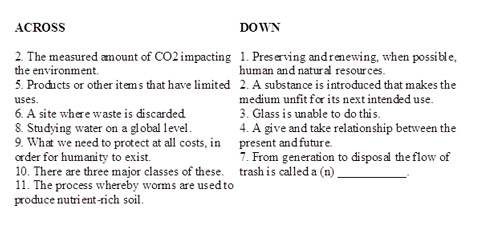 Download a printable version here.

1)   "We're very interested in 'greening' our hotel facility. However, budget is always front of mind. Can you recommend a cost-effective means of implementing a recycling program into a multi-unit guest facility?" – C.M., Indianapolis, IN
Dear C.M.,
Thank you for taking the time to read through the last edition of the "Midwest Recycler's Digest", I love getting feedback/questions from my readers. Your question regarding how  to 'green' your hotel facility, in a cost-effective manner could not have come at a better time.  In May I was contacted by a hotel in KS, requesting quotes on our products in order to implement a cost-effective recycling program for their guests. Like many companies Candlewood Suites is starting small but foresee growing their program over time. They decided on the Smart Sort recycling containers which are both cost-effective as well as functional. They were able to find a look that complemented their décor and were extremely pleased with the fact that we could customize their bin to reflect their corporate brand. Now when their guests enter the front lobby they have an option to recycle and Candlewood Suites is front in center as a company that prides themselves on 'greening' the planet. Here are a few cost effective options for in-room recycling could be the "Multi-Recycler", "Room-Mate","Billi-Box" to name a few. I would welcome the opportunity to speak with you to discuss your needs and the different options might work best for your location. Feel free to contact me directly.
Kind Regards,
Donna Hovey
2)   "Curbside organic collection is coming to our city. What do you recommend for residential organic collection?" – T.S., Minnesota
Thank T.S. for another great question. This is an area that is taking off in many municipalities. We have several options that would assist your local residents with their organic collection. Our new "GO-Cart (Green Organics)" collection carts have a 21 gallon capacity. The unit is UV stabilized against long-term effects of the sun, can withstand the worst weather conditions and offers a tight seal to keep pests and weather out. The "Go-Cart" is also extremely easy to handle, making it a perfect two wheel organic collect cart for persons of any age. Another great option is the "Mini Max" which is available in two sizes 5.5 & 13.5 gallon. It is specifically designed to collect a large volume of organics, has a grip on the bottom of the container for easy emptying and the handle moves forward to lock lid. The "Mini Max Reflector" has an 11 gallon capacity and has built in reflectors to help identify the container while at the curb. Please do not hesitate to contact me should you wish to receive a quotation on any of these units.
Kind Regards,
Donna Hovey
3)   "How important are secure containers for e-waste collection? Will regular recycling bins do the trick?" – E.W., Illinois
Hello E.W.,
Securing your e-waste collection is very important! All e-waste will have some sort of personal, confidential information stored within the internal hard drive. This information in the hands of the wrong individual could be damaging. By offering a secure collection container for your e-waste collection, you are placing the minds of your customers at ease knowing that their personal information is secured until such time that it is delivered to a facility that can properly dismantle and wipe clean all confidential information prior to sorting. I would not recommend a standard recycling container for collection of e-waste. Here are a few containers that might fit your needs. Our "(CPR) Cell Phone Recycler" is a great way to collect unwanted cell phones. The console is designed for centralized area. It offers a top slot for cell phone collection and comes with a 10 gallon liner. This unit can also be customized for hard drive and ink jet cartridge collection, and offers an optional signage for the back. If you are looking for a smaller more compact unit, the our "CDC (Cell Drop Container)" offers a 9 gallon container and can hold up to 30 lbs. I hope you found this information helpful!
Kind Regards,
Donna Hovey