New Midwest Team!
Due to some reorganization, Donna Hovey has parted ways with Busch Systems, moving on to other endeavors.  We wish her the very best in the future and thank her for her contributions to the company.
Michelle Jeffrey and Ginny Irving will continue to look after you folks in the Midwest and are pleased to support you in any way possible moving forward. If you are starting a recycling program, looking to improve your current one, or are simply interested in purchasing recycling containers, please contact either Michelle or Ginny.
All NEW Testimonial Program!
Are you pleased with your Busch bins, or appreciated the service you received? In either case, we want to hear about your experience with us! Describe why you love your Busch recycling bins, or better yet, how they assisted with reaching your recycling goals and receive rewarding perks!  Such feedback will lend you the opportunity to win a credit on your next order, as well as a featured write-up on our website, linking back to your webpage. Just be sure to mention your level of satisfaction and in detail, the specific products you used!
All the details pertaining to the program can be found HERE, as well as testimonials we've already received. Please don't hesitate to contact us if you have any inquiries about the program. The process is quick and easy, and a win-win result for all!

Set Your Eyes on the Aristata!
Sometimes the appearance of a recycling bin is enough to discourage a company from placing containers in an open setting.  We understand this hesitation, and that is why we have come up with an exciting solution that functions as a recycling bin but is also visually attractive! We are very thrilled to introduce a new sleek and stylish recycling alternative:  The Aristata was designed to blend seamlessly into any office environment.
With its executive-like finish, it easily complements most office decor.  Available in various wood-like finishes, you may choose the finish that best suits your office design. In addition to its classy look, this recycling receptacle is made from durable content, making it high in quality. Collect a variety of materials with optional lid openings that can be customized to your recycling program. To further promote your recycling efforts, decals are offered for the container as an indication of acceptable material. Have confidential paper that requires security? Choose the lockable option, and safely collect documents in the Aristata.  The versatility that comes along with this recycling bin is endless!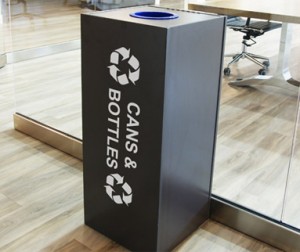 NWMSU Takes Recycling in Their Own Hands
While many Universities and Colleges across the United States are investing in campus recycling programs, one, in particular, is taking it to the next level with their sustainable initiatives.
At Northwest Missouri University, recycling means more than maintaining a clean campus; to the staff and students, it is about making environmentally conscious decisions that will contribute towards a greener future.
What Actions Have they Taken to Make it Happen?
In an effort to simplify the recovery process at their campus grounds, the Recycling Team at NWMSU installed their very own materials recovery facility.  Although taking on such an elaborate task is impressive in itself, what is even more extraordinary is the machinery's design. Every part of its structure was supplied from existing equipment and scrap which their Hardscape and Recycling Team repurposed.  The top hopper made from scrap steel was not only converted from scrap material but was also designed specifically to fit their mixed recycle bins – what a clever idea! Its platform was modified with chutes for aluminum and milk jugs that are captured in the recycling bins. Mixed plastics, HDPE, and glass are all sorted into boxes on the top level. PET is the main focus, but once there are enough alternative recyclables to bale, it's dumped into the lower hopper that feeds the baler. Both the lower hopper and baler chute were developed from old farm wagon parts and plant signage. They even reused their old emergency call station polls, to create their hopper's "legs". In addition, to reduce the number of cycles required in completing a bale of PET bottles, a shield was fabricated for the baler door, allowing a higher capacity of mixed material to go through at once.
It is clear that all aspects of this facility involved strategic planning and dedication. It is truly inspiring to see a school that takes action in reducing waste from entering our landfills. Every act makes a difference, and it is refreshing to hear of such success from NWMSU and its recycling team.
Continuing the accomplishments they have made in the last year, Northwest Missouri University plans to further divert their waste output by 40%, while generating enough revenue to cover landfill expenses and infrastructure improvements.  We want to congratulate NWMSU on their bold initiatives and wish them all the best as they expand their campus recycling program, working towards their incredible goal.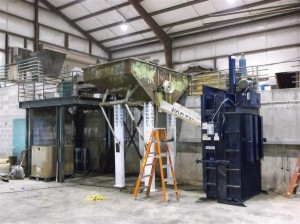 Creating a Backyard Pile Can Save Money!
Composting: it's something you don't hear about as much as recycling or reducing emissions, but it is equally important. Composting is an incredible way to reduce waste in your home in fact, according to the Mid-America Regional council between 25 – 35% of trash can be composted. Can you imagine what it would be like if each home was producing 35% less trash each week? In America alone, that would reduce nearly 250 thousand tons of garbage a year!
By converting your kitchen scraps into compost, you are creating rich soil and saving this extra material from being hauled to the nearest trash collection center. This simple act will also reduce the need for lawn fertilizer. What is not to like about that?
Starting a compost program is simple, and we have the best solutions to get things started. All of our compost bins are convenient in size, easy to use, and are lightweight creating added portability.  Beginning now will provide plenty of time to organize the implementation of the composting program, as well as educating participants on the program details.
See how our compost bins can help kick-start your program!

Spring Savings!
Are you in need of promotional items for an upcoming event or Waste Watcher signage to further promote your recycling program? Have you had the chance to learn about our popular Pavilion Recycling Containers?  For a limited time, we are offering all of these items at an all-low price…exclusive to the Midwest Region!  If you require any of these products or are simply considering purchasing – now is the best time to do so.  There are plenty of products to choose from; a variety of recycling bins for every purpose!
Learn how you can save on some original favorites, as well as discounts on a selection of our new recycling containers. Contact your Representative for more information on these exciting deals!