The ultimate solution for centralized office and classroom Recycling & Waste Collection
FEATURES
Available in 7 & 10 gallon; making it perfect for low-traffic, centralized locations
Stocked in an array of colors with varying lid options available allowing this product to be specifically tailored to brand & program needs
Inside rounded edges eliminate build up of dirt and grime in corners
Request A Quote
Fill out the following information to receive pricing and more details about this product!
BILLI BOX SERIES Features
Available in 7 & 10 gallon; making it perfect for low-traffic, centralized locations
Inside rounded edges eliminate build up of dirt and grime in corners
Stocked in an array of colors with varying lid options available allowing this product to be specifically tailored to brand & program needs
Looking for accessories for the Billi Box Series?
Below are the available add-ons for this product.
Stock Product Variants
FINISHED GOODS
COMPONENTS
ACCESSORIES
GRAPHICS
REFINE BY
NUMBER OF STREAMS
RESET
RESET
RESET ALL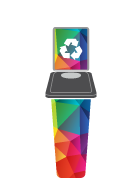 WE'RE SORRY,
WE DO NOT HAVE ANY
STOCK VARIANTS AVAILABLE
WITH THOSE OPTIONS.

IT'S A GOOD THING
CUSTOMIZATION
IS OUR MIDDLE NAME!
CAN'T FIND EXACTLY WHAT YOU'RE LOOKING FOR?
Product Specifications
FINISHED GOODS
COMPONENTS
ACCESSORIES
GRAPHICS
| | | | | | | |
| --- | --- | --- | --- | --- | --- | --- |
| PRODUCT ID | PRODUCT NAME | H | W | D | CAP. | WT. |
| 100878 | BILLI BOX - Double - 10 G - Mixed Recyclables-Waste - Mixed-Swing - Blue-Black | 20.75 | 22.5 | 15.5 | 20 | 7.5 |
| 100373 | BILLI BOX - Triple - New York City Compliant - Metal, Glass, Plastic & Beverage Containers-Paper-Garbage - Circle-Slot-Swing - | 20.75 | 33.75 | 15.5 | 30 | 11.25 |
| 100374 | BILLI BOX - Triple - New York City Compliant - Metal, Glass, Plastic & Beverage Containers-Paper-Garbage - Circle-Slot-Swing - | 20.75 | 33.75 | 15.5 | 30 | 11.25 |
| 100857 | BILLI BOX - Single - 10 G - Cans & Bottles - Circle - Blue | 20.75 | 11.25 | 15.5 | 10 | 3.75 |
| 100858 | BILLI BOX - Single - 10 G - Paper - Slot - Grey | 20.75 | 11.25 | 15.5 | 10 | 3.75 |
| 100859 | BILLI BOX - Single - 10 G - Paper - Slot - Blue | 20.75 | 11.25 | 15.5 | 10 | 3.75 |
| 100860 | BILLI BOX - Single - 10 G - Mixed Recyclables - Mixed - Blue | 20.75 | 11.25 | 15.5 | 10 | 3.75 |
| 100861 | BILLI BOX - Single - 10 G - Waste - Swing - Black | 20.75 | 11.25 | 15.5 | 10 | 3.75 |
| 100862 | BILLI BOX - Single - 10 G - Organics - Swing - Green | 20.75 | 11.25 | 15.5 | 10 | 3.75 |
| 100863 | BILLI BOX - Single - 10 G - Cans & Bottles - Circle - Grey-Blue | 20.75 | 11.25 | 15.5 | 10 | 3.75 |
| 100864 | BILLI BOX - Single - 10 G - Mixed Recyclables - Mixed - Grey-Blue | 20.75 | 11.25 | 15.5 | 10 | 3.75 |
| 100865 | BILLI BOX - Single - 10 G - Waste - Swing - Grey-Black | 20.75 | 11.25 | 15.5 | 10 | 3.75 |
| 100866 | BILLI BOX - Single - 10 G - Organics - Swing - Grey-Green | 20.75 | 11.25 | 15.5 | 10 | 3.75 |
| 100867 | BILLI BOX - Single - 7 G - Cans & Bottles - Circle - Blue | 15.75 | 10.5 | 14.75 | 7 | 3.75 |
| 100868 | BILLI BOX - Single - 7 G - Paper - Slot - Grey | 15.75 | 10.5 | 14.75 | 7 | 3.75 |
| 100869 | BILLI BOX - Single - 7 G - Paper - Slot - Blue | 15.75 | 10.5 | 14.75 | 7 | 3.75 |
| 100870 | BILLI BOX - Single - 7 G - Mixed Recyclables - Mixed - Blue | 15.75 | 10.5 | 14.75 | 7 | 3.75 |
| 100871 | BILLI BOX - Single - 7 G - Waste - Swing - Black | 15.75 | 10.5 | 14.75 | 7 | 3.75 |
| 100872 | BILLI BOX - Single - 7 G - Organics - Swing - Green | 15.75 | 10.5 | 14.75 | 7 | 3.75 |
| 100873 | BILLI BOX - Single - 7 G - Cans & Bottles - Circle - Grey-Blue | 15.75 | 10.5 | 14.75 | 7 | 3.75 |
| 100874 | BILLI BOX - Single - 7 G - Mixed Recyclables - Mixed - Grey-Blue | 15.75 | 10.5 | 14.75 | 7 | 3.75 |
| 100875 | BILLI BOX - Single - 7 G - Waste - Swing - Grey-Black | 15.75 | 10.5 | 14.75 | 7 | 3.75 |
| 100876 | BILLI BOX - Single - 7 G - Organics - Swing - Grey-Green | 15.75 | 10.5 | 14.75 | 7 | 3.75 |
| 100877 | BILLI BOX - Double - 10 G - Cans & Bottles-Waste - Circle-Swing - Blue-Black | 20.75 | 22.5 | 15.5 | 20 | 7.5 |
| 100879 | BILLI BOX - Double - 10 G - Paper-Waste - Slot-Swing - Blue-Black | 20.75 | 22.5 | 15.5 | 20 | 7.5 |
| 100880 | BILLI BOX - Double - 10 G - Paper-Waste - Slot-Swing - Green-Black | 20.75 | 22.5 | 15.5 | 20 | 7.5 |
| 100881 | BILLI BOX - Double - 10 G - Paper-Waste - Slot-Swing - Grey-Black | 20.75 | 22.5 | 15.5 | 20 | 7.5 |
| 100882 | BILLI BOX - Double - 10 G - Cans & Bottles-Waste - Circle-Swing - Grey-Blue-Black | 20.75 | 22.5 | 15.5 | 20 | 7.5 |
| 100883 | BILLI BOX - Double - 10 G - Mixed Recyclables-Waste - Mixed-Swing - Grey-Blue-Black | 20.75 | 22.5 | 15.5 | 20 | 7.5 |
| 100884 | BILLI BOX - Triple - 10 G - Cans & Bottles-Paper-Waste - Circle-Slot-Swing - Blue-Grey-Black | 20.75 | 33.75 | 15.5 | 30 | 11.25 |
| 100885 | BILLI BOX - Triple - 10 G - Mixed Recyclables-Organics-Waste - Mixed-Swing-Swing - Blue-Green-Black | 20.75 | 33.75 | 15.5 | 30 | 11.25 |
| 100886 | BILLI BOX - Triple - 10 G - Cans & Bottles-Paper-Waste - Circle-Slot-Swing - Grey-Blue-Grey-Black | 20.75 | 33.75 | 15.5 | 30 | 11.25 |
| 100887 | BILLI BOX - Triple - 10 G - Mixed Recyclables-Organics-Waste - Mixed-Swing-Swing - Grey-Blue-Green-Black | 20.75 | 33.75 | 15.5 | 30 | 11.25 |
| 100888 | BILLI BOX - Triple - 10 G - Mixed Recyclables-Organics-Waste - Swing - Blue-Green-Black | 20.75 | 33.75 | 15.5 | 30 | 11.25 |
| 100889 | BILLI BOX - Triple - 10 G - Mixed Recyclables-Organics-Waste - Swing - Grey-Blue-Green-Black | 20.75 | 33.75 | 15.5 | 30 | 11.25 |
| 100890 | BILLI BOX - Quad - 10 G - Cans & Bottles-Paper-Organics-Waste - Circle-Slot-Swing-Swing - Blue-Grey-Green-Black | 20.75 | 45 | 15.5 | 40 | 15 |
| 100891 | BILLI BOX - Quad - 10 G - Cans & Bottles-Paper-Organics-Waste - Circle-Slot-Swing-Swing - Grey-Blue-Grey-Green-Black | 20.75 | 45 | 15.5 | 40 | 15 |
| 100892 | BILLI BOX - Single - 10 G - Paper - Slot - Green | 20.75 | 11.25 | 15.5 | | 3.75 |
| 100893 | BILLI BOX - Single - 10 G - Paper - Slot - Green | 15.75 | 10.5 | 14.75 | | 3.75 |