East Northumberland Secondary School (ENSS) is proud to have installed a new recycling collection system for the hallways and cafeteria of ENSS.  We also purchased two robust units for outside.  We are striving to become a waste leader within our community, and divert waste from our local landfill.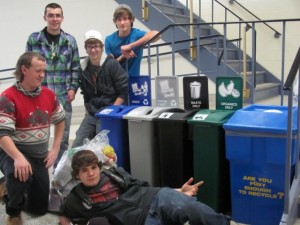 We are encouraging our staff and students of ENSS to get on board and learn the new system and deal with their waste responsibly.  We have 13 teachers signed up for emptying duties with their classes.  We have conducted a "game show" idea at Grade 9, 10, 11, and 12 assemblies to test students' knowledge of what waste goes into which bins.  We are in the process of developing a logo to capture the essence of environmental initiatives in place at ENSS…if we all work together, then…
We look forward to measuring our success through waste audits throughout the year, and hopefully will be able to implement more bin stations when funds are generated this year.  Thanks to Busch Systems for excellent service and being part of this exciting improvement at our school!
Sincerely,
East Northumberland Secondary School Recycling Team