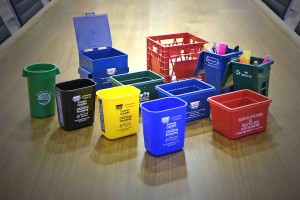 What better way to promote your recycling program or recycling service than through the use of mini recycling bins? These promotional items are always a hit at tradeshows, great for sales calls, and can be customized to put your company logo and contact information on the desk of anyone you give them to. Best of all, these handy items come in different colors and different designs, so it's easy to find the one that's right for you.
If you are a college or university looking to promote recycling on campus, then consider a campaign whereby you give away multi recycling bins with your school logo along with a slogan like "We Recycle!". It's a popular way to promote a campus recycling program and helps get the word out about your school's sustainability efforts.
If you are a business providing a recycling collection service, what better way to let people know about your service than by giving them a mini recycling bin with your contact information right on the mini bin? Every time your prospect uses the mini bin, your company information will be prominently displayed.
If you are a municipality or city looking to increase recycling rates and spread awareness about your collection program, think about distributing mini recycling bin key chains to help spread the word.
Everyone loves free items. When those items are interesting and practical, they tend to love them even more. If you can get your name onto items like this, it's a great way to promote your program or service. When it comes to mini recycling bins, what's not to like?