Aquinas College, located in Grand Rapids (Michigan), has had an official commitment to campus sustainability since 2005. As a part of that extensive commitment, Aquinas signed the American College and University Presidents Climate Commitment in September of 2008. In this pledge, Aquinas committed to becoming a zero waste to landfill campus by 2020.  The Center for Sustainability and Students Striving for Sustainability partnered to further Aquinas' commitment to sustainability by moving forward the goal to achieve campus-wide zero municipal solid waste by 2014.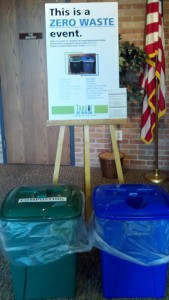 A Zero Waste Team is in place to assist in educational programs concerning Aquinas' waste streams. With collaboration of faculty, staff, and students, Aquinas will incrementally reduce its waste 25% each semester over two years, by expanding campus composting and recycling efforts. Aquinas is on track thus far, having reduced the campus waste capacity by 25% in the Fall 2012 semester. With everyone working together, the college hopes to reach this aggressive (and unique) goal to be a zero waste campus by 2014!
Aquinas' recycling program is a single stream system that allows for convenient and efficient use. It was important for their recycling program to be single stream for ease of use. Busch Systems is the company that made Aquinas' recycling efforts more manageable. Using easy-to-see recycling containers, college students, faculty, staff, and visitors can always find a place to put recyclable waste. Busch Systems' containers can be found in all common areas of every building on campus.
J.E.
Aquinas College