Since 1977, The Barrie & District Christmas Cheer Foundation has been giving families in need a chance at celebrating Christmas they otherwise couldn't afford. The people and businesses of Barrie and its surrounding communities have been incredibly generous over the years.
There are nearly 1,900 families located in the Barrie, Innisfil, Essa, and Oro townships that are currently in need of gifts and food for the holiday season.
Over 1200 volunteers are lending a hand in this year's campaign collecting and sorting all of the donated toys, clothes and food that are pouring in from all over the community.
At Busch Systems, we set up a giant bin in our office that took no time to fill with awesome toys and gifts for deserving families in the area. A bunch of the Busch crew packed up a truck and headed to Christmas Cheer's massive sorting centre located in the East End of Barrie.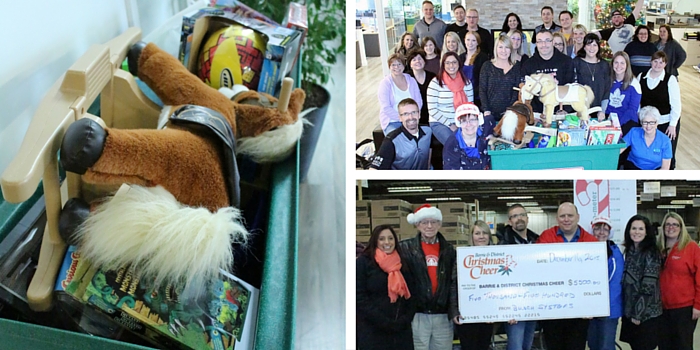 Getting see the centre in action is something to behold, akin to Santa's workshop hours before the big day. Witnessing hundreds of volunteers as they busily organized toys, clothes and food are truly something to behold and speaks volumes of the big heart the people of Barrie and its surrounding areas.
There are other drop-off centres located in the Barrie, Innisfil, Angus, and Rama areas so there always a place to donate nearby.
Christmas Cheer is still looking for cash donations that are currently sitting at $77,000 of their $250,000 goal, so please donate, donate, donate!