It's always a good thing to get a deal on products. When you can find a good deal on quality products, it's even better.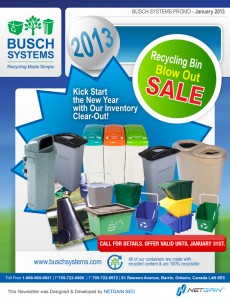 As we approach our year-end here at Busch Systems, it's a great time to take advantage of over-stocked inventory and surplus items. Our warehouse is holding a clearance sale on many different recycling bins, compost containers and waste receptacles. Needing to create space in our recycling bin warehouse means savings for you!
So if you have a need for recycle bins, recycling stations, waste containers and organic collection bins, this is a great opportunity for you to take advantage of some really affordable clearance prices on some of the best quality recycling containers in the world.
Give us a call at 1-800-565-9931 to see what we've got left in stock and what products you can walk away with at clearance level pricing.
We've got lots of new things coming along in 2013. We just have to make a little room out back first.
From The Recycling Experts
By Chris McBrien